This shop has been compensated by Collective Bias, Inc. and its advertiser. All opinions are mine alone. #CampbellsShortcutMeals #CollectiveBias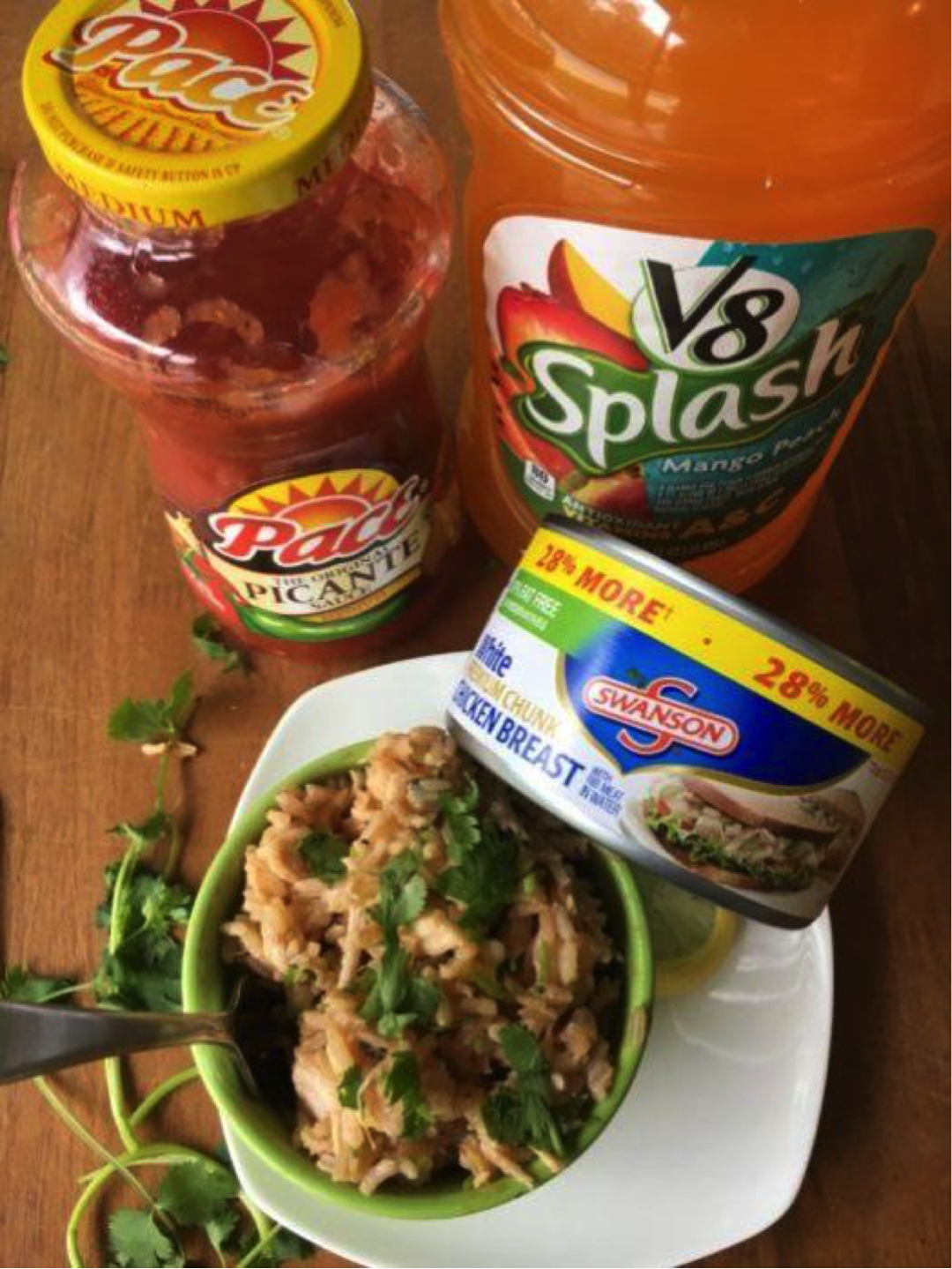 Hover your mouse over this image to quickly and easily get all the ingredients for this recipe at Walmart.com!
I love cooking. In summer and during our mad dash of back to school days I always try keeping my cool by focusing on yummy recipes that delight and are quick to make. I stock up at Walmart and I am good to go. There are rare exceptions in which we don't have rice at least once a week. Quite frankly, rice is a daily affair in our Latino cooking. We never tire of rice. Be it on its own to accompany a good steak as paella or arroz con pollo, for example. Lately, with the bowl and one pot meal trends, I decided to combine our favorite ingredient and make them into an Easy Cilantro Chicken Lemon Rice Bowl Recipe.
Easy Cilantro Chicken Rice Bowl Recipe
I have to admit, this recipe will come out year round several times and not just in the back to school season. I am sure it will be a great dish of comfort food
I have to admit, this recipe will come out year round several times and not just in the back to school season. I am sure it will be a great dish of comfort food in winter as well. In any case, regardless of when you make it, one thing is clear: you will spend very little time in the kitchen yet serve a delicious meal that will become part of your regular repertoire. Here is how I make the Cilantro Chicken Rice Bowl:
Cilantro Chicken Rice Bowl Recipe
2017-06-26 22:12:07
Nutrition Facts
Amount Per Serving
* Percent Daily Values are based on a 2,000 calorie diet. Your Daily Values may be higher or lower depending on your calorie needs.
Ingredients
1 cup of brown rice
1 can of Swanson® Premium Chicken
3 tablespoons of Pace®
2 lemons - to be squeezed
1 bunch of diced cilantro
2 cups of water
2 tablespoons of oil
Salt to taste
Instructions
1- Cook 1 cup of rice in 2 cups of water. Add oil and salt in. Let the ingredients boil until water evaporates where you can see the rice. Once this happens reduce the heat to low and cover the pot. Let is cook in low for about 20 minutes
2- Once the rice is cooked add the Pace®, Swanson® Premium Chicken and cilantro. Add the lemon juice. Mix everything well and serve.
Notes
We used brown rice. Jazmin rice works just as well!
Pepper flakes on the table are a good garnish suggestion 🙂
Cool Moms Cool Tips http://coolmomscooltips.com/
I admit I had to pat myself on the back for the amount of time that I saved from not boiling the chicken, or having to dice onions and tomatoes. As a matter of fact, if you want to reduce the time further, you can use leftover rice from the night before and just mix everything together!
Cool mom tip: you can get as creative as you like with this recipe. Adding black beans and corn to it has tweaked the recipe enough to to make it different, but just as acclaimed 🙂
Effortless Recipe, Cool Cook
I know I don't have the time I would love to have to cook and feed my family during back to school. As we get used to new schedules and focus on finishing homework or project there is little time left to create in the kitchen. Recipes like this Easy Cilantro Chicken Rice Bowl guarantee a great tasting and filling meal that won't slow you down to make it. Pace® and convenient Swanson® Premium Chicken are key ingredients in making this an effortless recipe and me a cool cook! One last suggestion: serve this Cilantro Chicken Rice Bowl with a deliciously fruity glass of V8 Splash®!
Cool mom tip: consider dicing a jalapeño and adding to the recipe for a crunchy fresh kick!
Visit the Campbell's Shortcut Meals website and get the coupon to start saving on 8 different Campbell Soup Company products! The coupon will be available starting this Friday, July 14th!