This post has been compensated by Collective Bias, Inc. and its advertiser. All opinions are mine alone. #NixUltra #CollectiveBias
Brace yourselves. I am going to say something that without fail will give everyone the imaginary itches. get ready, here it comes: head lice! YIKES, I can almost feel them crawling around. These powerful little things are hard to get rid off and it is a tedious process. This year, I have some Tips on How to Prevent Head Lice Plus One Trusted Solution to Eliminate them along with a free printable for you. I know I will be sharing this printable with my class teacher. She might want to hand it out to all class parents and avoid a class epidemic! Come print yours out!
6 Tips On How to Prevent Head Lice Plus One Trusted Solution To Eliminate Them
Back-to-school can be challenging enough. No need to add it all the unwelcomed visit of head lice! Time to stop the little suckers in their tracks. I am ready to be on the offensive instead of the defensive! I have 6 Tips to Prevent Head Lice that can be the tickets to keep lice at bay!

Sharing is not always caring:
When it comes to brushes, hats, caps, and scarves can help spread the lice. So tell kids to only use their own.
Add tea tree oil to your shampoo:
Our pediatrician says lice hate the smell of tea tree oil. So, adding a few drops to your or your child's shampoo will help keep the little pests at bay.
Use hairspray
This simple trick makes it hard for lice to grab hold of hair!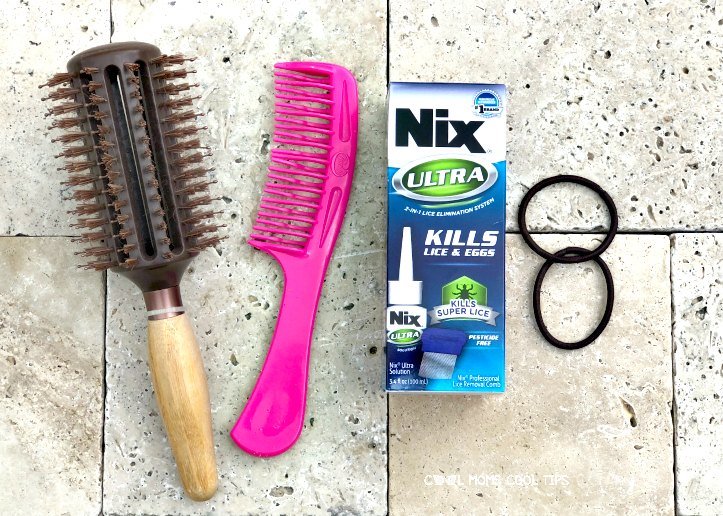 Ponytails, buns, and braids for girls:
You wouldn't think of this, but doing so keeps the hair up to make it more difficult for lice to crawl up, under and around the head.
Less is more:
It is a fact that lice love a clean head. Try to shampoo less frequently. Leave more days in between shampoo days. It will have the animals looking for another head to call home.
Do weekly head checks.
While this is not prevention in itself, it will help you fight the problem head-on before it is out of control.
These tips should help you keep the unwelcomed critters at bay. Do print our free Tips to Prevent Head Lice printable! I am focussing on prevention because if we do happen to have a lice problem, we have our solution at hand – Nix Ultra®.
If Lice Do Visit You, There is Easy to Use Help
These tips are a guide and sadly not a guarantee. If unfortunately, you need to combat lice, our best tip is to use convenient Nix Ultra®, It is an effective solution that will become your infallible best FAST friend in the battle to eradicate lice effectively. You will refer to it as the ultimate non-toxic resource to combat super lice. We do listen to the experts and this product is the #1 Pediatrician recommended brand. Can you say trusted? That is due to its tough power on lice and gentleness on the skin. I love that Nix Ultra® offers great tools to aid us such as Lice Tracker and a Lice ID Tool as well.
Back-to-School Smarts
In my back-to-school supply purchase list I always include Nix Ultra® because if I fall prey to a lice unwanted visit, I will be ready with the best help there is. Plus a quick pharmacy aisle visit when I am at Walgreens is all I need to do to be prepared. Additionally, we can all enjoy a $3.00 off savings on any ONE (1) Nix Ultra® product. Be sure to print your coupon by 3/31/19.
Do you have any other tips on how to prevent lice?
Privacy
-
Disclosure